Red Light Therapy PowerPanel - MEGA

Multi-wavelength Technology

Dimming+ Mode

Pulsing Technology
Ultra Low EMF
The most optimal full-body red light panel using multi-wave technology.

Featuring 300 x 5W Dual Chip powerful LEDs delivering a massive 167mw/cm2 of light intensity, making it the most powerful and largest panel available.

Ultra-low EMF and completely flicker-free, & FDA registered.

Fast Shipping
30 Day Trial & Easy Returns
Introducing our Red Light PowerPanel MEGA, the pinnacle of our full-body panel range. It boasts an impressive array of 300 x 5-watt LEDs, strategically designed to emit targeted red and infrared light. This extensive coverage makes it ideal for comprehensive treatments spanning large areas of the body, whether it's the front torso or back. Notably, the MEGA panel surpasses our MAX panel by incorporating 50% more LEDs. Its increased width ensures superior full-body coverage, delivering an astounding 167mw/cm2 of light energy, making it the most powerful 300 LED panel on the market.
What sets the MEGA apart is its utilization of 5-watt dual-chip, flicker-free LEDs, carefully calibrated to emit the most advantageous frequencies of 630nm and 660nm in red light, alongside 810nm, 830nm, and 850nm in near-infrared light.
The Red Light PowerPanel MEGA stands as one of the most feature-rich red light therapy panels available today. It showcases a state-of-the-art interactive touch screen control panel, complete with full brightness control, advanced pulsing functionality, and a comprehensive timer and function display.
Certification: AS/NZS 60335.2.27:2020, AS/NZS 60335.1:2020, CE, FDA Size: 920mm X 300mm X 65mm Irradiance (Light Intensity): 167mw/cm2 at 6 inches (Solar Meter) Irradiance (Light Intensity): 79mw/cm2 at 6 inches (Light Spectrometer) Red Light Wavelengths: 660nm (25%), 630nm (25%) Near Infrared Wavelengths: 850nm (17%), 830nm (16%), 810nm (17%) LEDs: 300 x 5w (Dual Chip) LED Power Class: 1500W Power Consumption: 580W Flicker: ZERO Flicker EMF: 0.0 µT @ 4" Beam Angle: 60 degrees Weight: 10.5kg Lifespan: 100,000 Hrs Warranty: 3 Years
FULL CONTROL AT YOUR FINGERTIPS
Experience cutting-edge control at your fingertips with an intuitive touchscreen panel, granting direct access to all of the device's functions, including the dimmable and pulsing capabilities.
Customize your treatment effortlessly through the user-friendly touchscreen controls, allowing you to adjust the LED light output to your desired comfort level and set session duration using the fully customizable built-in timer.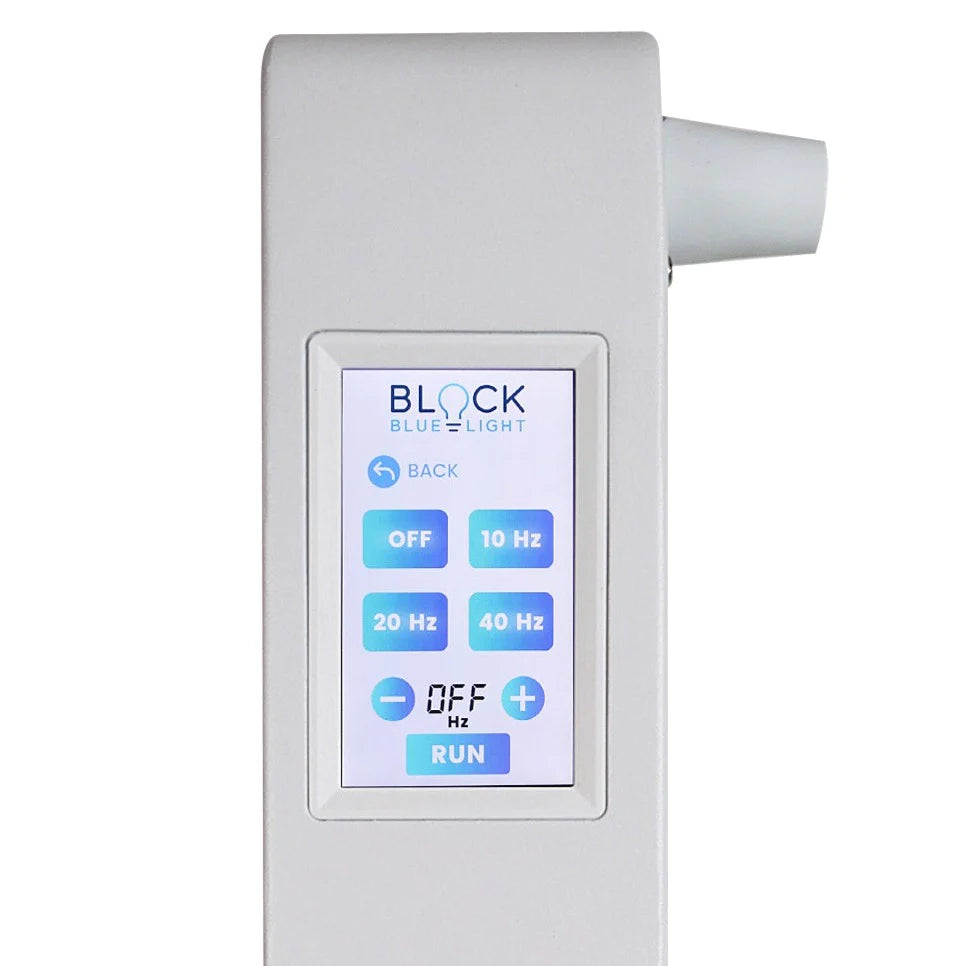 ADVANCED PULSING MODE
Numerous studies have demonstrated that pulsing provides additional advantages over non-pulsed (continuous wave). Pulsing light is believed to boost cellular activity, open ion channels, and resonate with cells. The PowerPanel allows you to use continuous wave and set any pulse between 1 and 10,000Hz.
The pulsing feature broadens the device's versatility by enabling you to fine-tune your experience, thus accommodating a wider spectrum of user preferences.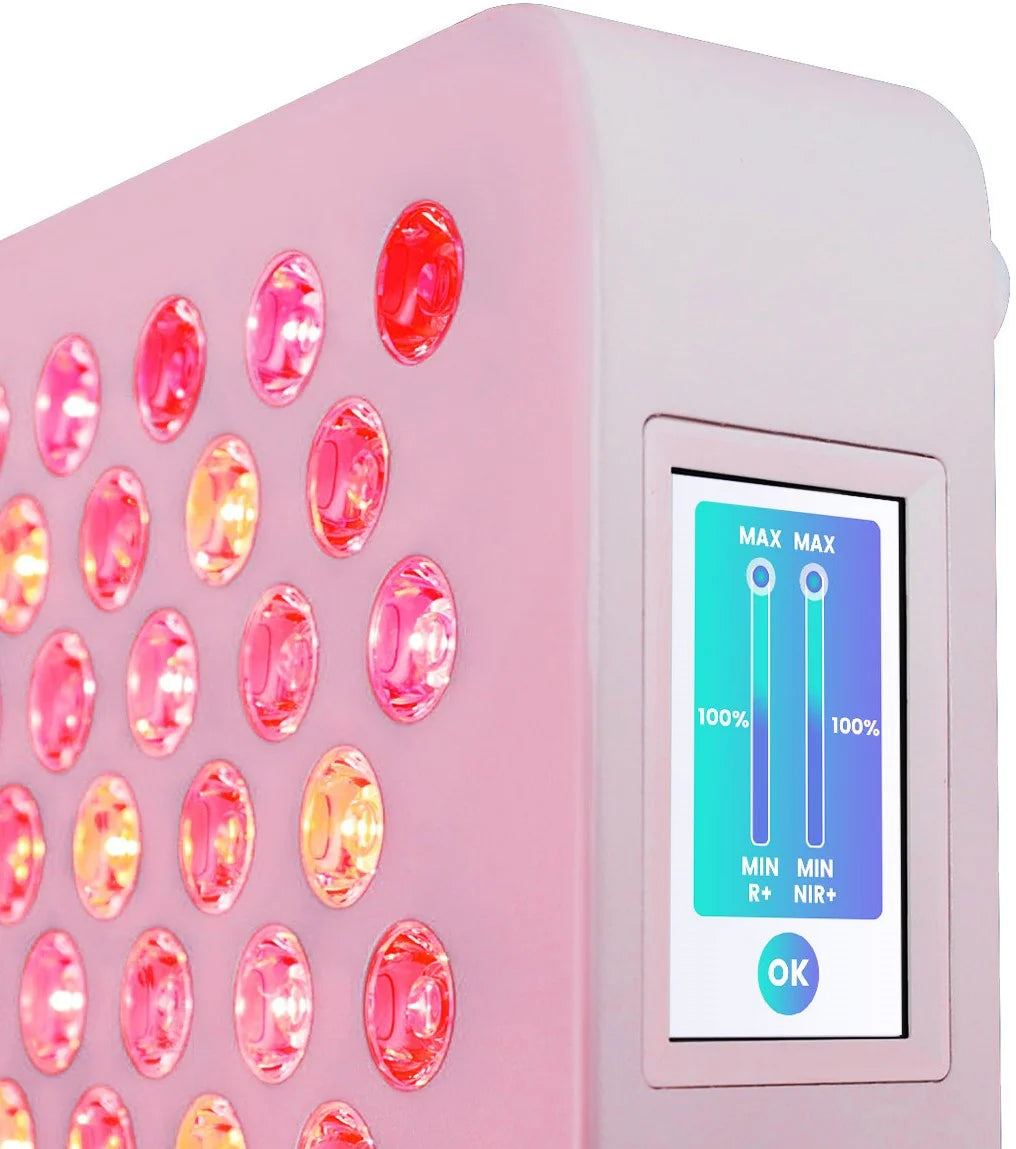 BRIGHTNESS CONTROL
Freed from the limitations of a one-size-fits-all approach, the dimmable feature of the PowerPanel enables you to precisely adjust the light intensity to meet your specific preferences and needs.
This versatile panel allows you to personalize brightness levels according to your mood and objectives, spanning from a gentle 1% all the way up to a vibrant 100%. Whether you're unwinding for a peaceful night's sleep or simply relaxing after a long day, this adaptable panel empowers you to discover the ideal lighting intensity.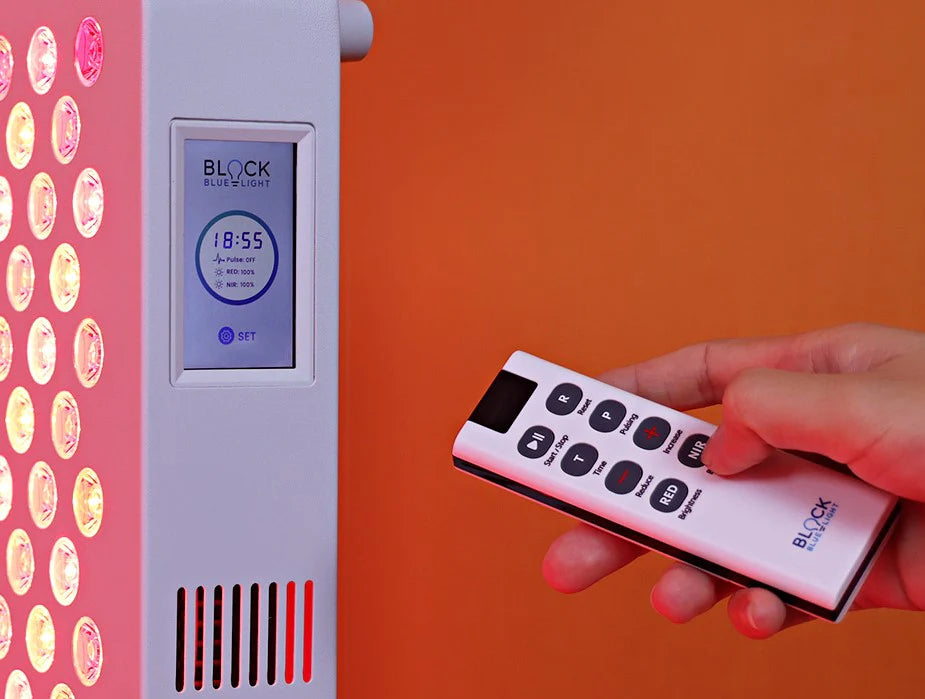 ADVANCED REMOTE CONTROL
The advanced remote control empowers you to remotely manage all the features of the Red Light Therapy PowerPanel, offering complete access to the device's extensive feature set.
The remote is also designed to enable the effortless connection and control of multiple panels from a single remote.
TIME YOUR SESSIONS
Say goodbye to the need for external timers or guesswork, thanks to the advanced running screen. Embedded within the device is a timer with a countdown display, providing real-time information about your session's remaining time, as well as the set pulse rate and brightness levels.
You can conveniently set the timer in one-minute increments, affording you the flexibility to customize the session duration to your liking.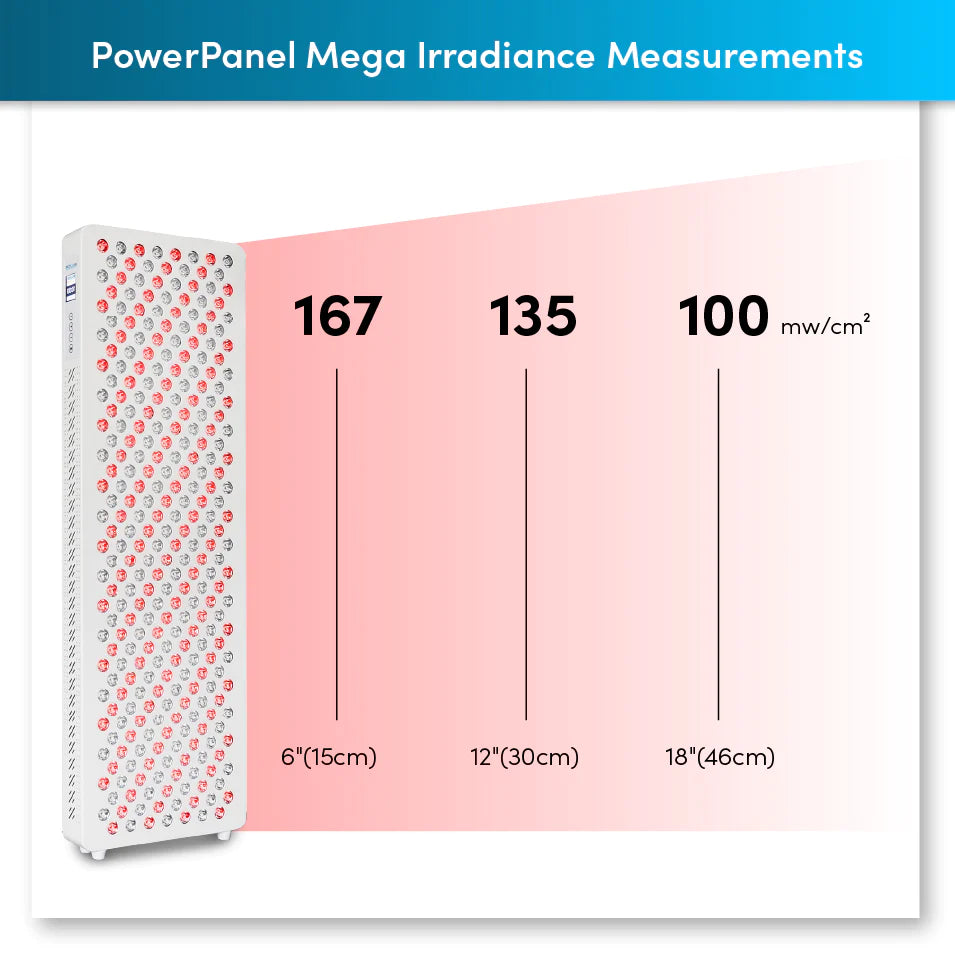 MEGA POWER
The PowerPanel MEGA is a supercharged powerhouse that delivers a high-intensity treatment experience. It boasts an array of 300 cutting-edge 5-watt dual-chip LEDs, harnessing the immense power of 630nm and 660nm red wavelengths, along with 810nm, 830nm, and 850nm near-infrared wavelengths.
This combination results in one of the most powerful irradiances (light intensities) available in the market, ensuring exceptionally effective performance. At a distance of just 6 inches, it provides an impressive 167mw/cm2 (measured using a solar meter) and maintains an average of 79 mw/cm2 at the same distance for a Light Spectrometer verified reading.
The Most Advanced Red Light Therapy Panels
Compare BlockBlueLight Red Light Therapy Devices
Pernille T.

Verified Buyer

What a result

I bought this for various reasons, open to results. I never thought that the back pain I had (lower back, possibly hormone related issues) would resolve itself in a handful of sessions. I am no longer woken up during the night from pain, and have an amazingly improved mobility. Totally worth it.

Alistair H.

Verified Buyer

Power panel

Relaxing and warm. Smoother healthier looking skin after only 14 days.

Game changer, 4 month review.

I wanted to leave a more long term review. What the panel is like after four months. This has turned out to be a bit harder than expected. That's because I am now fully adjusted to all the health benefits of the panel. All improvements are now my everyday normal.

I have 3 chronic health conditions which I manage without prescribed medication- Bipolar 1, ADD and ulcerative colitis. All have seen substantial improvement from red light. My mood is much better, baseline is several levels higher and doesn't drop down anywhere near lows that were normal before. All with no risk of peaks. My skin is better than its ever been. I have a running toe injury that has limited me to only trail running once a week for over a year. I'm now running three times a week no problem, with triple the elevation. No DOMS, even when I skip pre/post stretches. I have also seen a huge improvement in cardio- it's easier to breath, especially at higher BPM.

My normal everyday aches and pains from being 40 years old are basically gone. Yes I might wake in the morning with a bit of lower back ache as many do. After 20 mins on the panel front and back (with two MEGA panels), then a cold shower and not only do I have no aches or pains whatsoever but I'm in a good neutral relaxed mood to start the day. Every day.

We bought a PRO panel for my father to try for his chronic back pain, neck pain and insomnia. It has significantly improved his pain problems. Unfortunately it hasn't helped (or…

Top of the line

Light output is powerful. Deluxe impressive.

Excellent panel

So far it's been great, been sleeping better, improvement of arthritis pain in wrist. Just bought the Pro panel as well so I can have a full length panel.

Michelle K.

Verified Buyer

Love my Panel

I bought this panel predominately to treat Long Covid, but am more than happy to get the other benefits from Red Light therapy (better skin, wound healing etc.). I use it every day for 20 minutes and find it extremely relaxing. I researched this therapy and this panel meets all the requirements and is great value. I nearly bought a Red Light face mask for anti-aging for $600 a few years ago, but this panel is far better value cost and health wise.

Using daily

Loving this product using it daily!

Highly recommend this unit

I highly recommend this red light therapy panel. As yet I haven't noticed any improvements in my health, but I am very hopeful as I have read lots of research articles and they all cite really positive health benefits from using red light therapy. I haven't had it long enough to judge that yet. It's a really sturdy well-made unit. Get the large unit - or you'll always wish that you did! The staff are all lovely, friendly and very helpful

Love it so Far

Loving my mid RLT panel. I've been using for over a week now and the difference in my face texture is noticeable to me, not sure if others notice but it just feels softer. Will update once I'm further in.

I have severe neck pain and have been using twice a day. I still have pain however when I'm using it my shoulders and neck relax which helps. Hopefully more improvements to come over a longer period. I do wish I had bought the stand though as I'm not using it behind the door instead I'm using it on the table and I fear someone will knock the table or something.

Game changer for my ACL knee injury

I have been using the panel for the past month since I ruptured multiple ligaments in my knee at the end of July. The pain relief, reduced muscle tightness and overall ability to work long days on my feet since using the panel has been amazing. I highly recommend at least giving this thing a shot for anyone who has had a major injury or post surgery during their recovery.
Reviews Loaded
Reviews Added