Twilight Red Light Bulb - E14 (Small Screw)

100% Blue & Green Light Free

Relaxing Sunset Red light
Perfect for Bedrooms

Maximise Sleep Quality
Twilight bedtime bulbs are the most optimal lighting to use in the evening hours prior to bed and during the night. Featuring our relaxing red-light spectrum, that is guaranteed to be 100% blue AND green light free, produce zero flicker, and low EMF.

Fast Shipping
30 Night Trial & Easy Returns
100% Blue and Green Light Free Bulb For Lamps
Our Twilight Red Light Bulb is great to use before bedtime and is now available in a small edison screw fitting (e14) which is the perfect fit for most common lamps.
These bulbs feature our same proprietary spectrum technology to produce 100% blue light free, AND 100% green light free light with zero flicker and low EMF.
Green Is The New Blue
Green light is right next to blue light on the visible colour spectrum. Research shows that the range of light that interferes with our melatonin production extends from the blue range well into the green range. This is why our twilight red light bulb removes all green light as well, making it the ultimate light bulb to use before bedtime to ensure maximum melatonin levels.
We also have or same
Twilight Red Light  Bulb
 in the larger B22 bayonet and E27 screw fitting, designed to be used in larger lamps and overhead lighting. You can purchase these
here
Colour temperature: 1300k
Peak Wavelength: 630nm
Brightness: 400lm (40 Watt Equivalent)
Wavelengths blocked – 100% between 380-580nm
Dimming: Non Dimmable
Input voltage: 85v-260v 50/60Hz
Power consumption (watts): 5w
Size: D50mm x H92mm
Base: E14 (screw)
Certifications: CE, ROHS, SAA, RCM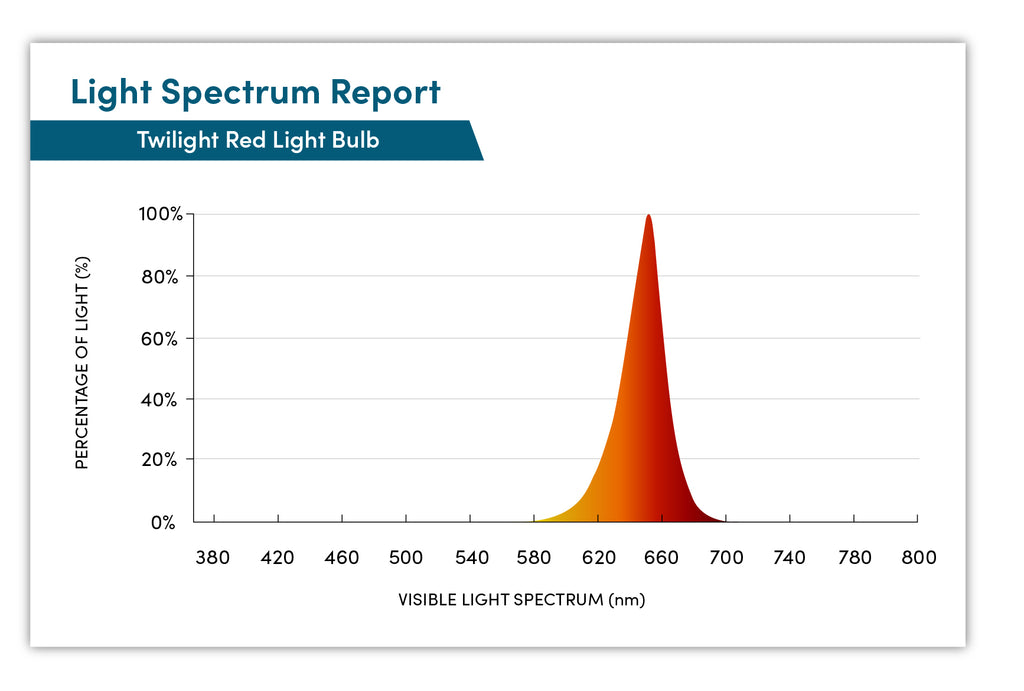 Jennifer C.

Verified Buyer

I'm not Roxanne, but I will "turn on the red liiiight...."

For the benefits to my pineal gland, melatonin level and the other main effects? My glands, nervous system and overall person, thanks you :)

Twilight red light bulb

Great bulb for bedroom. I especially like it when I get up in the night as it is bright enough to see where I'm going but not enough to fully wake me up.

Such an improvement!

The red light bulb is so much better in my bedroom than the standard bulb! Currently I do shift work, and the red light is so soothing- helping me to relax at night and get up in the morning without a jarring bright light. As a result, I find that I'm achieving better sleep patterns and feeling much more rested.

IB

Great light

Rest mood, perfect night time

Part of my evening routine now

I use this bulb to relax and read in the last couple of hours before I go to bed, and also as a bedside light. It really does help me wind down and feel more ready to go to sleep, and it also helps me feel less anxious which I wasn't expecting. At around £20 it's a good investment for better quality sleep.

This is a perfect light for night time reading

This took some getting use too but it is so relaxing to have it on prior to bed.

Great

I have been using the red light bulb for about 3 months now. It gives off a good amount of light, not too bright but not too dark, you can still read no problem. I feel as though when winding down with only this light for around 1 hour before bed that I do seem to get more deep sleep. It is also much easier on the eyes than a typical white light LED bulb. Once you get used to viewing this light at night, you won't be able to go back to the bright white lights.

Ms

The Twilight Red Light Bulbs help to relax and wind down for a peaceful sleep.

JI

Nighttime routine locked in

Before this lightbulb I was stretching in the dark to avoid the blue light 😂 But now I can read, stretch, etc before bed without having to worry about light affecting my sleep. Highly recommend adding this to your sleep hygiene.

Victoria H.

Verified Buyer

Perfect for my child's bedroom

I bought this to see if it could help my daughter (she's 2), relax better before sleep. It does the trick. Really pleased.
Reviews Loaded
Reviews Added