NoBlue Motion Night Light

Rechargeable Battery

Motion Activated
Magnetic Wall Attachment

100% Blue Light Free
The NoBlue Motion Night Light is a warm amber light source that is 100% blue light free, has zero flicker, and is low EMF.

Featuring integrated rechargeable battery for up to 7 hours run time, dawn to dusk motion sensor, and magnetic wall attachment.

Fast Shipping
30 Night Trial & Easy Returns
Amber Motion-Activated Night Light
The NoBlue motion-activated night light is the perfect night light that emits no sleep disrupting blue light and provides a dim warm amber light to guide you at night. 
The NoBlue Motion Night Light Bulb is 100% blue light free, has zero flicker, and is low EMF.
The NoBlue motion light has a three position switch.  In the "ON" position, it continuously emits a warm amber light.  In the "OFF" position, the unit is off.  And in the "AUTO" position, the motion sensor will turn on the light in darkness when one passes within 4m of the light and within a 120 degree area.  
Stick it on, hang it up, stand it up, set it down 
The motion night light comes with a 3M magnetic attached back to stick to the wall, and a hanging attachment to hang on the wall, or it can be simply placed down on the floor
This is the ideal amber motion night light for your children's rooms, bathrooms, hallways, baby's nurseries, or simply anywhere you may need to walk to during the night.
Colour temperature: 1800k
Built-In Battery: 3.7V 800 mAh rechargeable Li-ion battery
Flicker Free Technology
Peak Wavelength: 585nm
Brightness: 100 Lumens
Wavelengths blocked – 100% between 380-500nm
Life: 30,000 Hours
Power consumption (watts): 2w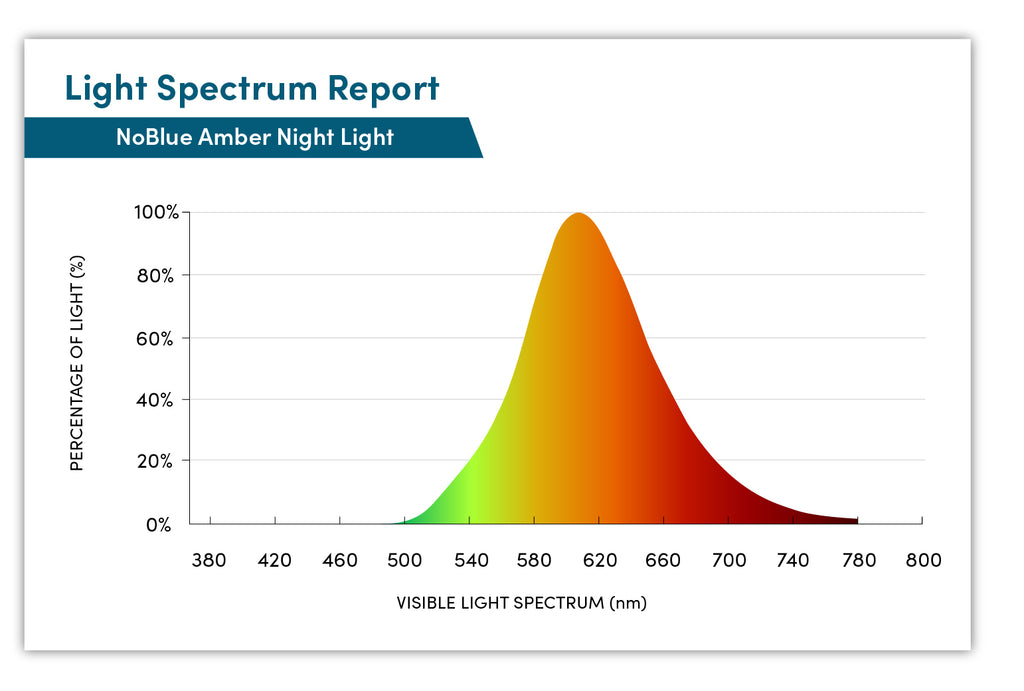 Maneeka Le P.

Verified Buyer

Toilet light for night

Switches on from quite a distance and has enough light to lighten the path to door , loved so much purchased another for bathroom

Excellent illumination.

Used for the first time last night. We found it helpful, providing more than adequate illumination, while being easy on the eyes. The magnet on the rear of the device however, definitely needs to be stronger, as it only just holds the light in place on the metal stick on disc. I believe the light would easily fall, if accidentally knocked. Some Blu Tack corrected the problem, but note to the manufacturer; use stronger magnets please. Otherwise, very happy with our purchase.

Bought for nursery

I have loved this light. It is what lights my way to the bottles and diapers etc in the wee hours of the night/morning. Looking to get a second one for travel.

Excellent little light

I have this in my bathroom. It gives plenty of light (even when showering) and is great when I get up during the night. I've only charged it once and it's already lasted a couple of months without the need to recharge (although it is only me in the house so perhaps it would get more use in a family home and not last as long, I don't know). Highly recommend it and I aim to get another one for my kitchen for when I just wander in and out for a few mins thus not having to put the lights on. Very pleased with it.

Michael P.

Verified Buyer

No need for other night lights

These are great I have two & they last about 2 weeks on a charge, charge takes about 2 hours

The Little Light That Boosts Your Sleep

I've used my NoBlue Motion Night Light to help stop my broken night's sleep by installing it in the bathroom. Now when I have to visit the toilet during the night I find that it's much more likely that I'll get back to sleep quickly after returning to bed. I had't realised that the harshness of the bathroom light had disturbed my previous sleeping pattern.

Perfect for hallways, bathrooms, anywhere really

Great motion light, love that it turns off during the day automatically 🤩

Marilys D.

Verified Buyer

Beautiful product.

I'm delighted with this lovely product that creates a beautiful atmosphere. Excellent.

Love it!

I got one for the kitchen, it creates the nicest warmth in the evenings between dinner and bedtime when I might make a tea etc. Its so nice not to turn any bright lights on. I do wish it could stay on just a little longer like 5-10secs but I'm more than happy with it.
Reviews Loaded
Reviews Added