DayMax Billie Glasses - Pearl Grey

Maximum Daytime Protection

Assists With Light Sensitivity
Reduce Migraines & Headaches
Reduce Eye Fatigue
DayMax Glasses provide MAXIMUM protection against blue light during the day by eliminating 100% of the harmful blue light emitted from screens, devices, and lighting, while still allowing all the essential beneficial light though responsible for positive mood, energy, and focus... read more
The DayMax light yellow lenses are ideal for people who are light sensitive, suffer from migraines and eye strain, or are indoors under harsh lighting and use screens and devices all day.

Fast Shipping
30 Day Trial & Easy Returns
Our DayMax Blue Light Glasses are specifically designed for those having significant exposure to artificial blue light during the day, they feature our specialised light yellow lenses which provide maximum blue light protection, while still helping you maintain your energy and focus when you need to feel and perform your best.
The light yellow DayMax lenses filter 70% of blue light across the entire blue light spectrum (400nm-500nm), providing maximum protection to eliminate light sensitivity, migraines, eye strain, sore and tired eyes, headaches/migraines from both screen time and bright LED or fluorescent lighting in the home/workplace.
The DayMax lens uses propriety filtering technology to block 100% of blue light in the lower range of 400 - 455 nanometers; this is the most energetic and damaging light emitted from screens and lighting. More importantly it still allows all the beneficial blue light through still which is in the later part of the spectrum from 455-500nm, this blue light is essential during the day for optimal hormone production, energy, positive mood, and motivation. 
To ensure you have both day AND night protection, we recommend you also use a set of our Night-time Blue Light Blocking Glasses during night-time to ensure deep and restful sleep.
Filters 70% of harmful artificial blue light across the entire blue light spectrum
Blocks 100% of harmful blue light from 400-455nm, then allows all beneficial blue light through from 455nm-500nm
Premium frame made from high quality, lightweight acetate with durable spring hinges.
DayMax light yellow lens - made with optical grade CR-39 to provide highest visual acuity
Stops headaches and migraines, blurred vision, eye strain, and minimises risk of macular degeneration
Daytime lens designed to provide maximum blue light protection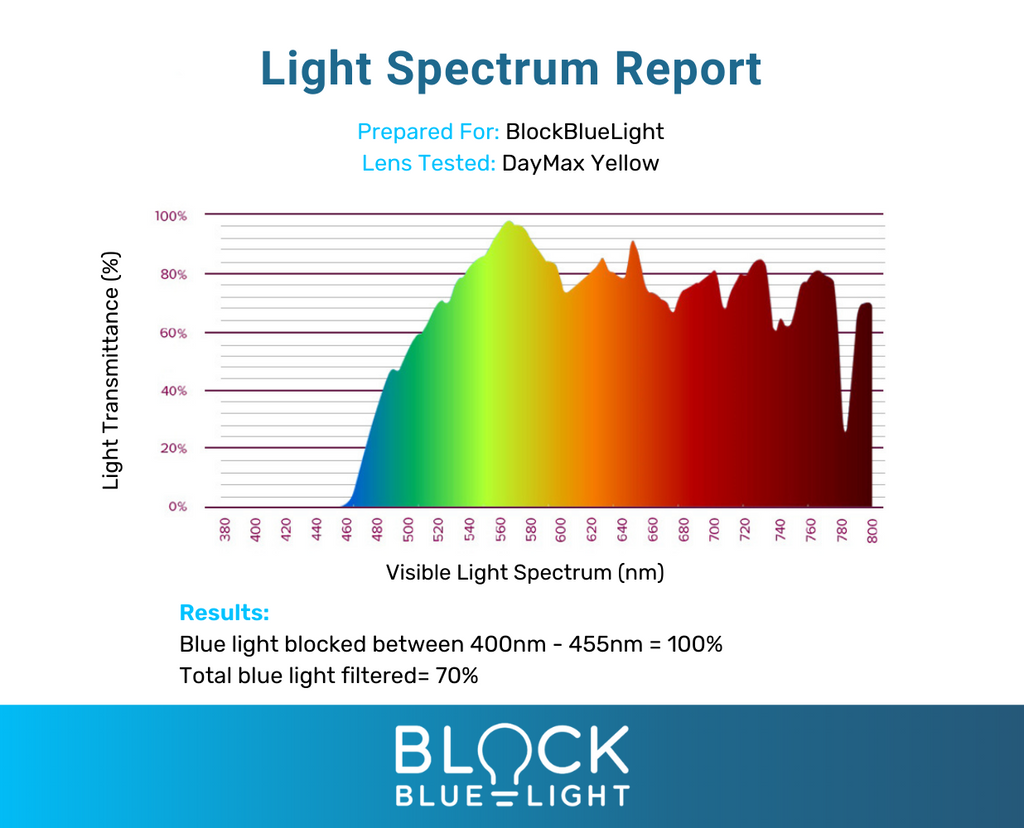 After over a year with my glasses, I can't imagine going back!

Absolutely fantastic! Purchased over a year ago, they've been a game-changer. Now, eyeing the website for a pair with red tint, I realised I hadn't shown appreciation for my current glasses.

At the start, they felt a bit odd, but over time, these blue light blockers became my eye's best friend! Despite being a tad big for my head, I discovered a YouTube hack – used a hairdryer to bend the temples, and voila – a perfect fit! They've been a lifesaver for my eyes, especially for someone who spends a lot of time in front of screens! Highly recommend these glasses for anyone seeking comfort and relief during screen-heavy days.

Katherine D.

Verified Buyer

Wonderful

These are fantastic! Highly recommend. I immediately noticed far less eye strain and fatigue within 2 days of use. Thank you for making such an outstanding product.

Amazing

These glasses are great help me so much at work and reduce the headache i get from all the artificial light. Definitely would recommend.

Very pleased!

Stylish, lightweight and I feel good looking out better for my circadian health!

Love these glasses!

I love these glasses, they have helped immensely with light sensitivity and eye strain from looking at screens. It's helpful to have barrier between the intense screen light and my eyes and I don't get headaches as often!

Great Purchase

These are great and very effective

Kristóf K.

Verified Buyer

Daylight Glass Review

Bought this one to my wife and she loves it! The frame is pretty nice to waer in any occasion and the glass itself I already shared my experiences, its pretty great!

The box is also really cool, by material and its foldable.

Migraine sufferer

Bought these as I suffer migraines and wanted to help reduce light sensitivity especially in daytime and for led lights at work and strobe light effects . I didn't realise how unnecessarily brightly lit shops were until I wore these. Great! Just a little big for my face so slip down quite a bit, but for the relief they give I can put up with it. Look good and work!

GAME CHANGER

I bought these glasses as I had a cleaning job working under harsh white warehouse lighting. The real kicker was that I started at 6am each day which was terrible when it was still dark outside and suddenly bright white headlights burn the back of your eyes and then walking into work just hammered my eyes and head further. The ill morning lights were fatiguing me greatly and it took a toll on my mental health, not to mention the headaches I was getting. Coming to the end of the day any source of light was just feeling so hard to handle. Let's just say that is soon as I started using these glasses my quality of life really was made a lot better. Worth mentioning too is that despite the fast paced and hands on job, during the three months I wore them I did not have to touch them ONCE to put them back into place and 0 nose pinch despite never wearing any other glasses! They look pretty groovy and I got lots of compliments;)

Gorgeous and effective!

The shape and size of the frame has been so well considered, it's a timeless gorgeous stylish shape! The yellow lens blocks out all the blue, working in front of 2 screens for 12 hours a day I can feel the difference and I sleep so much better at night too! Thanks!
Reviews Loaded
Reviews Added